Needs to be an easy to install hinge
that can hold at multiple angles
Project issues
A clamshell cellphone which could be bent in two, needed to be made smaller. The hinge needed to hold the display at several set angles and click into place.
The current hinge required adhesives to hold in place, increasing the complexity of production while waiting for the adhesive to harden in place. The OEM inquiry included a request to simplify the install process. Maintaining a high load capacity was also important.
Sugatsune's solution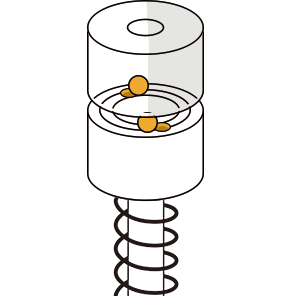 Sugatsune's own Motion Design Tech includes click motion. Using this technology, it is possible to have hinges snap into place and hold at a certain angle. We submitted several options to the customer that with different amounts of torque with a different feeling for use. By providing many choices, we were able to get as close as possible to the movement desired by the customer.
Not only did the hinge snap into place at certain angles, it also held the screen using free stop at any angle, increasing the convenience of use.
Further, by combining the hinge into a unit, it became possible to install without adhesives. We also achieved a high load capacity by newly creating a ball structure.
We also designed a cap to be placed on the top of the hinge. By doing this, we ensured that even if the phone model changed, it was easy to coordinate by simply changing the color of the hinge cap, providing extra value and solving our customer's design requirements.
Different technologies involved
→ Click motion